If you were on social media recently you undoubtedly ran across a few posts about Community Manager Appreciation Day, or maybe one of the over 19,000 #CMAD tweets. So, what exactly is a Community Manager?
A Community Manager wears many hats and the role is still evolving. For now it's safe to say a Community Manger is the face of a brand's online presence. They are the ones creating new content to share with the community; responding to requests; driving online engagement; searching for new ways to reach, connect with and engage members through their communities and, most importantly, creating and cultivating relationships.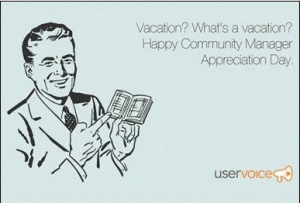 In addition to the above tasks it's also a Community Manager's duty to stay up-to-the-minute with industry trends not only for their clients but also for managing communities and social media marketing.
Here is a recent infographic that illustrates the many hats a Community Manager wears in a single day.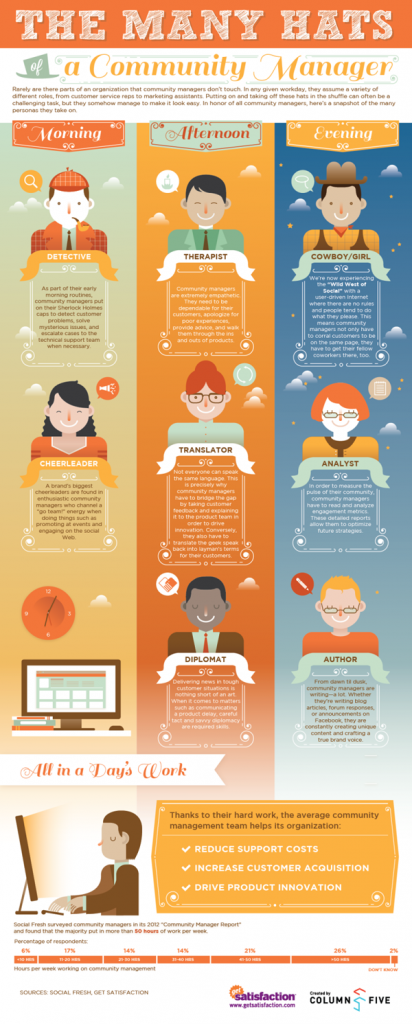 So how do you manage a community? Although there are many strategies and tactics for each role you take on, here are the 6 essential keys to effective community management.
Know your audience: When building and nurturing a community you must know who your audience is so that you can not only create content they'd like to see but also use the proper voice and tone in messages that resonate with your community.
Know the industry: Digital marketing and social media are ever changing, you need to keep informed of new trends and know when something is or isn't right for your brand's community.
Know your analytics: Analytics are not just for tracking where leads go; constantly review your analytics to find out what resonates with your community and what doesn't. Through this constant feedback loop you'll be able to provide your community with content that is useful and engaging.
Mind your manners: Community management is as much about reaching your audience as it is about offering good customer service. Make sure you respond quickly to questions, mentions and comments and don't forget to thank people as well; a little personal attention goes a long way when trying to build brand advocates.
Don't broadcast marketing messages: People go to social media to do one thing: be social. Don't inundate your audience with marketing messages; give them content that makes them want to come back to see what you're doing next. It's okay to mention an upcoming event or brand message every now and then but keep it limited, and when doing so focus on the benefit to your community, not to your brand.
Build relationships: This is one of the most important aspects of a Community Manager's job. It's not about how many followers or fans your brand has (although those are always nice); it's about creating and nurturing relationships with your customers. If you're not communicating with your followers and making them feel like a valued part of your community you'll lose your ability to reach them and their friends in the future.
So, as you plan your community's content this week, ask yourself, what else can my brand do to build relationships in our communities?
For more information about Community Management Day, take a look at the blog post "Wrap-up: Community Manager Day 2013, Trended," by Community Manager Appreciation Day Founder Jeremiah Owyang.