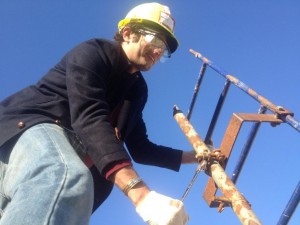 On a cold but beautiful sunny day in Portland last week, the Mambo team traded in their marketing caps for hardhats and gave back to the community by volunteering for a Habitat for Humanity build on the East side.
The development at 171st and Division streets will be the largest Habitat build in Oregon, featuring 45 lots and adding $6,750,000 to the local property tax base. The first 22 homes are scheduled for completion by March of 2013. Construction on the final 23 homes will wrap up by the end of 2014.
An estimated 10,000 volunteers will work side-by-side with 45 families to build this community from the ground up, providing stability for approximately 150 children. Each family is required to help build their own home and pay a 1% down payment on a 0%-interest mortgage, helping to instill pride and ownership in their new home.
"Habitat for Humanity is on the front line of the fight against poverty housing," says Tor Ostrom, director of volunteer programs and corporate engagement for Habitat for Humanity Portland/Metro East.
Portland/Metro East is the oldest Habitat for Humanity affiliate on the West Coast and the largest in Oregon, serving over 200 families in over 30 years.
"We partner with low-income, hardworking families to make their dreams of home ownership a reality. It is a true partnership, and as part of our program the families put in 500 hours of sweat equity. Many future Habitat homeowners tell me that one of the most amazing things about the program is working side by side with the volunteers that come out to help us build decent, affordable homes," Tor says.
Habitat for Humanity is able to sell houses at cost because of volunteer labor and donations. Mambo was thrilled and honored to be a part of this vision and help these families build their dream home.
"By donating your time or money, you are joining us in the fight to eradicate sub-standard housing," Tor says. "Your community thanks you!"
If you would like more information about volunteering as a corporate group or individual, visit www.HabitatPortlandMetro.org/how-you-can-help.
See more photos of Mambo at work on Facebook!